July 01, 2021 – Summertime Blues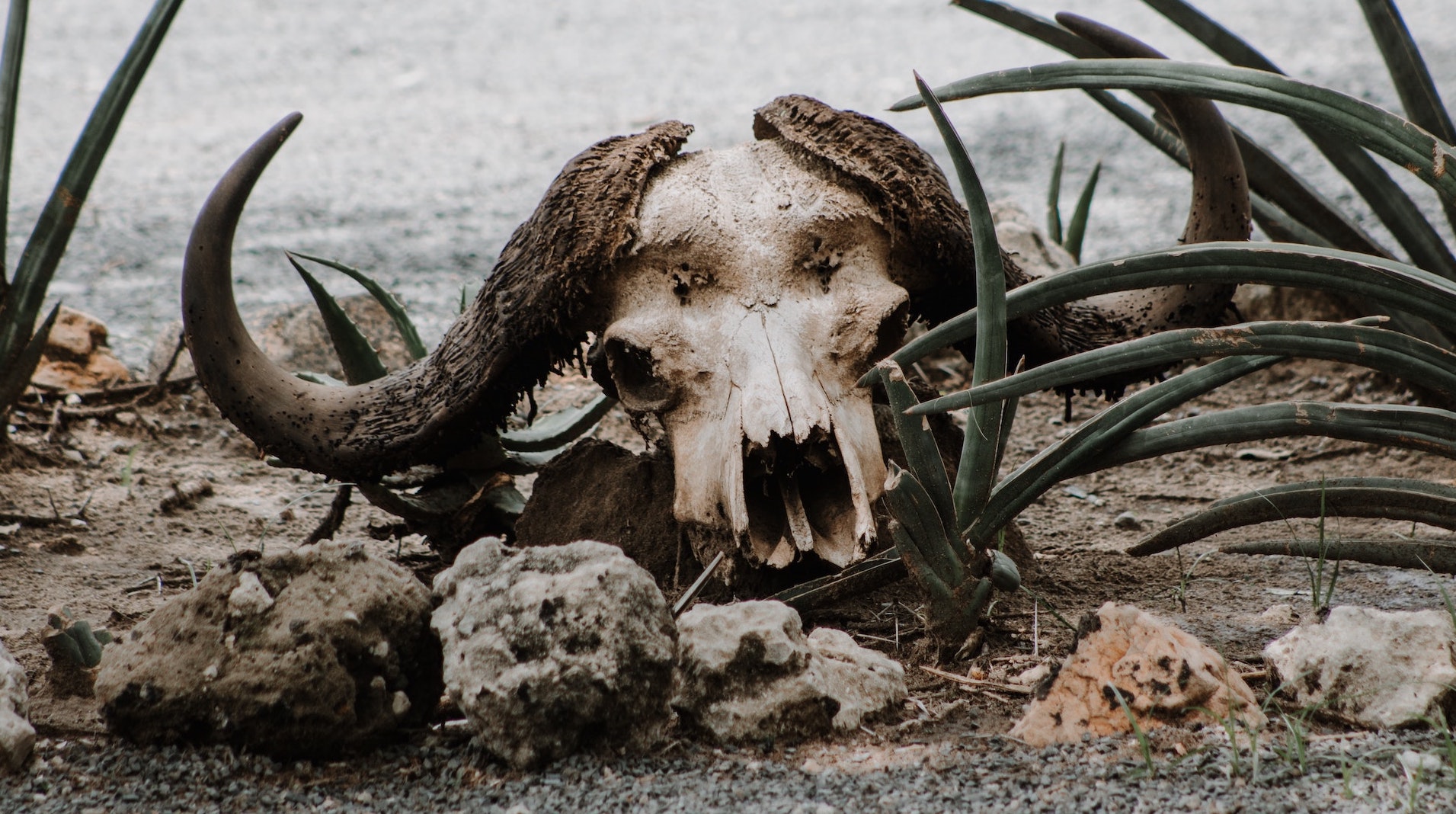 Over half a year ago, USA Today said the American West was abnormally dry and a scientific study predicted a mega-drought, an intense one lasting 10 years or more, was developing. This was covered in our In the News item, "December 16, 2020 — 2020 Wraps Up",
Unprecedented Temps
DW's The Day TV anchor Brent Goff reported on June 21st, Summers first day, that "Phoenix, Arizona … set an all-time record of five consecutive days of 115°F." That's 46°C.
On June 29th, CBS's primetime news anchor Nora O'Donnell stated, "The Pacific Northwest is broiling in temperatures never seen before."
Actually, much of the USA was suffering from abnormally high temperatures in the last part of June even though not all highs were record breaking.
The Accuweather Website confirmed in several articles that heat records were being smashed from California all the way up to Alaska.
Canada
On June 30th, British Columbia's Premier, John Horgan, reminded DW News TV that Canada had the reputation of being the second coldest country in the world during wintertime. But in late June in Western Canada, it was anything but chilly.
AccuWeather posted the following about a record broken on the 29th:
"To highlight how unusually hot it has been for southern British Columbia, Lytton's all-time high of 121 F (49.4 C) is higher than any temperature ever recorded in Las Vegas, Nevada, which has only ever seen the temperature climb to 117 F (47.2 C) …"
Places that never needed air conditioners currently do. And according to some reports, hundreds of Canadians and Americans died because of June's extreme heat wave.
Outlook
"Some", The Day's TV anchor added, "even say this summer could be the hottest and driest in the millennium."
Extreme droughts that last for many years eventually can lead to severe food shortages. And when that happens, major economic instability soon follows and often civil unrest.
Photo Credits: Skull by Uphesh Manoush, License: CC0.
---
May 24, 2021 – More Weather Extremes
Is it yet another New Normal, this wild weather we keep experiencing?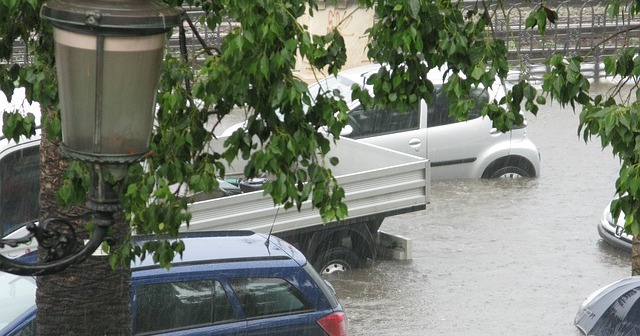 For the 7th year in a row, a subtropical storm with the potential of becoming a hurricane has formed in the Atlantic Ocean before the official start of hurricane season. So said ABC's Good Morning America TV show that aired on May 21, 2021. The storm was named Ana.
But even before Ana, too much rain and flooding already was a main concern in many parts of the Southeastern USA.
Out West
On the opposite coast, the so-called fire season has started early as well, exacerbated by abnormally dry conditions. How dry is it?
America's National Drought Mitigation Center (NDMC) closely monitors the weather, and its reports are not pretty.
Due to serious lack of snow and rain, the NDMC said that in some parts of the region, "there are increasing reports of reduced pasture forage, livestock requiring supplemental feed and/or being sold off, and some reports of livestock mortality."
The American Great Plains
However, "The High Plains Region was a tale of two extremes." Part of the High Plains, a subregion of the Great Plains, "saw widespread heavy precipitation" while other places had little rain.
On February 18, 2021, The Online Farm Journal, AGWEB, posted an article titled 2021: A Drought Year Like No Other!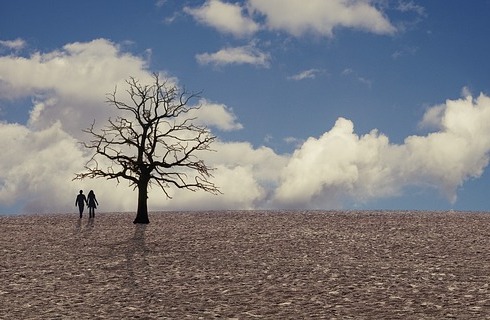 In it, atmospheric scientist Eric Snodgrass said,
"Over the last 20 years, we've never seen a drought situation looking like this through February. There's extensive drought in the Northern Plains. There's exceptional drought in the four-corner states. But there's little drought in the eastern half of the U.S."
After February, conditions went from bad to worse.
"The period of January to March 2021 was the driest in 126 years for North Dakota," the Successful Farming website reported on April 12, 2021. And, by latter May central North Dakota had slipped into NDMC's highest drought classification. In doing so, it joined several southwestern states.
If the severe drought goes on for years, the devastating impact should not be much of a surprise. The North Dakota Studies Gov website graphically describes what happened there roughly 80 to 90 years ago.
Most of North Dakota suffered serious drought during the 1930s. … Crops dried up, and hay would not grow. … Because there was no rain to wash away the grasshopper eggs, many farm crops were completely destroyed by clouds of grasshoppers. The grasshoppers were so hungry that they ate brooms and clothes on the clothesline once they had finished with the crops. "
Photo Credits: Flooding, License: CC0 ; Drought by Geralt, License: CC0.
---
May 10, 2021 – Another Cyber Attack
On May 9, 2021, Politico reported on its website this headline No restart yet for pipeline shut by cyberattack; gasoline prices climb.
Politico and others said ransomware was also involved. That makes recovery more difficult since software is digitally kidnapped by an encryption process and the attacker refuses to release it until specified terms are met.
While this incident is fresh on everyone's mind, we are republishing an item about cyber warfare that first appeared here 5 years ago.
March 2, 2016 – Cyber Warfare and Avenging Worms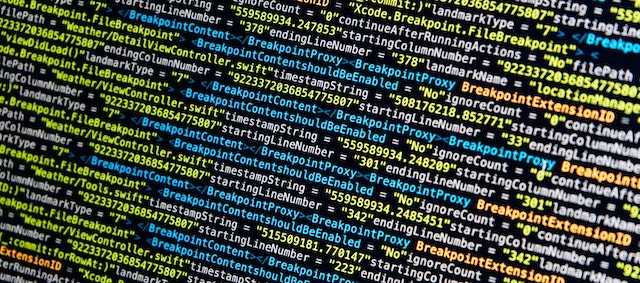 Nuclear warfare is so last century. Helping to drive home the point … the New York Times newspaper reported, "… American investigators concluded that the attack in Ukraine on Dec. 23 may well have been the first power blackout triggered by a cyberattack …"It's not the first incident of cyber warfare. Nor will it be the last, as it provides the attacker some compelling advantages like virtually untraceable anonymity. Or so says well respected investigative journalist, Ted Koppel, anchor of ABC TV's Nightline until he left it in 2005.
Gridlock Redefined
Since then, Koppel completed a best-selling book. Released on October 27, 2015, it goes by the title of Lights Out: A Cyberattack, A Nation Unprepared, Surviving the Aftermath. The book is chocked full of scary stuff drawn from his own observations, opinions of numerous top experts, and actual experiences. According to him, Washington DC could be brought to its knees without a single nuclear tipped missile being fired. Any highly technologically dependent nation can be, for that matter.
He wrote that the nuclear deterrent — mutually assured mass destruction — proved quite effective in the second half of the last century at preventing all out war between major powers. But in the 21st century, software programming methods, readily available to even rogue nations and terrorist groups, have shredded the rules of modern warfare.
Two Firsts
The book stated that America was the first to detonate an atomic bomb. She, apparently aided by Israel, is also widely credited with another first – a nation to nation cyberattack. The U.S. is said to have utilized Stuxnet, a sophisticated well-placed digital worm, to damage Iran's nuclear facilities.
Open to All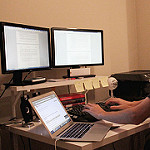 America's friends and enemies alike wasted little time in demonstrating that they too are able to plant computer viruses, worms, trojans, and blended threats by doing just that. Much of the time these have been deliberately designed to act as a warning to their target rather than it being extremely harmful.
The New York Times March 1st article began by saying the U.S. government has warned, "the nation's power companies, water suppliers, and transportation network that sophisticated cyber attack techniques used to bring down part of Ukraine's power grid … could easily be turned on them"
Koppel also pointed out what world leaders already knew — zapping the power grid in places like France, Canada, or the U.S.A. goes well beyond being a nice revenue boost for candle makers.
Potential
Koppel's Lights Out book reminded folks that a power outage, in America, caused by a natural disaster is typically limited to part of a region. But if giant custom built one-of-a-kind power transformers across the the country are destroyed by cyberattack, don't expect the power to be restored in days, weeks, or months. The book also refers to a U.S. congressional commission report which chillingly estimated,"that only one in 10 of us would survive a year into a nationwide blackout, the rest perishing from starvation, disease, or societal breakdown."
That is if foreign troops do not invade in the meantime.
Photo Credits: Coding by Alexander Sinn, License: CC0; Programming by Josh MacDonald, License: CC BY 2.0.
---
January 17, 2021 – United Kingdom, or Not?
American primetime news in early January has been dominated by Covid-19 statistics or events related to its national election. Once again, other major news received precious little attention in the USA. One of them is Brexit.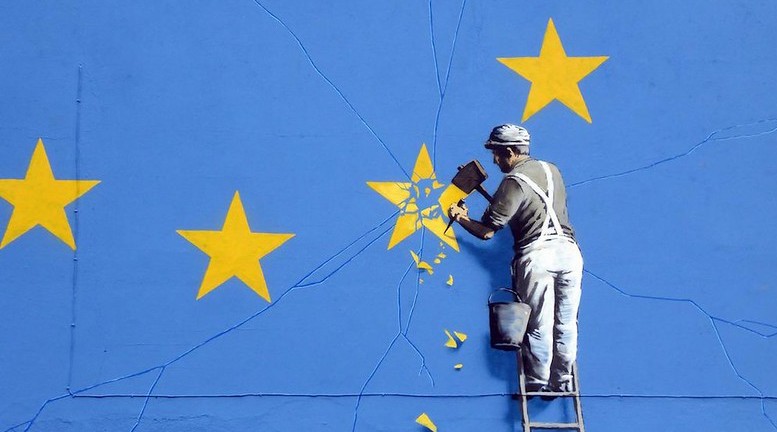 The breakup between the United Kingdom and the EU has formally concluded. Brexit became a stark reality on January 1, 2021.
Custody Not Settled
Wales, Scotland and Northern Ireland, along with England herself, currently make up the UK. But, for some their status is still a burning question. Take Scotland, for instance.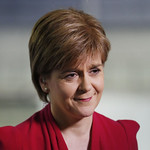 Newsweek magazine posted an article on December 31, 2020 titled, "Scottish leader tells EU 'Scotland Will Be Back Soon', Renewing Talks of Independence". In it, the magazine stated,
"Recently, 15 polls have shown that a majority of Scottish voters support leaving Great Britain."
January 3, 20202, BBC News said that a UK wide referendum about Scotland's status is not planned in "Boris Johnson says indyref vote should be once-in-generation". However, could Scotland hold its own vote? Some caution that's not as simple as it might seem.
Celtic Union Proposed
The Irish Times on December 28, 2020 posted Brexit: Scotland is the key to what happens with Northern Ireland. The Irish Times said,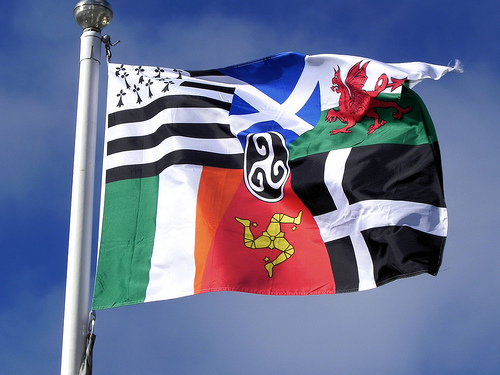 "An independent Scotland … would also leave Northern Ireland out on a limb … the possibility of the three nations that support EU membership coming together to form an arrangement between Scotland, Ireland and Northern Ireland could be a worthy alternative."
Increasingly, calls for independence are being heard in Wales as well. Read the December 11, 2020 BBC News article, "Plaid Cymru pledges independence vote if it wins Seneed election. The Welsh parliament is known there as the Seneed.
Trade Nightmare
Trade has bogged down between the UK and Europe. Both Covid-19 directives and the Brexit deal are blamed.
Unless resolved quickly, 2021 distribution chain issues and other trade headaches clearly threaten to give the UK Celtics independence drive significantly more traction.
Watch what happens.
Photo credits: Dunk's photo of picture by Banksy, License: CC BY 2.0 ; Photo of Scotland's First Minister courtesy of CBI (Confederation of British Industry) ; a Celtic Flag courtesy of An Sionnach Fionn Irish Culture website.
---
Africa and Asia ◆ Environment ◆ Europe ◆ Global ◆ Health ◆ Middle East ◆ North America