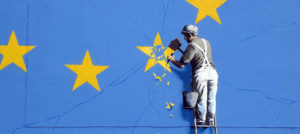 These days the European Union appears increasingly at loggerheads with America and Britain. And events in late May as well as in early June apparently only made things worse.
The UK-EU Split Gets Messier
In April, Conservative Prime minister Theresa May called for a British snap election to be held in June 8, 2017. The earlier than expected election seemed like a safe bet at the time. But now the world knows it ended badly for the prime minister and her party.
The Australian Broadcasting Commission (ABC) addressed the potential fallout in it's article titled, "UK election: Theresa May's disastrous results will have unpredictable consequences" on Friday June 9, 2017. Australia's ABC wrote,
"Ms. May called this election to boost her parliamentary majority and strengthen her Brexit negotiating hand — talks begin in 11 days.
But this election result may have given extra power to the pro-EU MPs within her own party."
ABC later added,
"This result will also undoubtedly embolden some in the European Union, who think the UK's bargaining position is now much weaker than it was before this campaign began."
The Brexit negotiations were scheduled to start Monday, June 19, 2017. At this point, they are expected to begin either on that date or, at the most, a few days later.
President Trump in Europe
The American president's first overseas trip is now one for the history books. To many observers, the second part of the trip did not go nearly as well as his visit in the Middle East.
To briefly recap, in Europe the president stopped first at the Vatican, in Brussels for multiple meetings with European leaders, and then went to Sicily for the May 26-27, 2017 G7 summit.
In Brussels, at NATO's headquarters, the president initially declined to re-endorse Article 5 of NATO's founding treaty, which states that an attack on any member is considered an attack on all. But the president did commit to Article 5 after the trip was over.
Six of the G7 leaders — from Canada, France, Germany, Italy, Japan, and the UK — reaffirmed the Paris climate accord at the G7 Summit; but the American president chose not to do so then or after his return to the White House.
Both actions, along with other statements made both in Brussels and Sicily, irked the Europeans and had several leaders rethinking their alliances.
After the president's trip, DW News published an article, on May 28th, with the headline, " Merkel: Europe can no longer rely on US and Britain." The subheading read,
"The German chancellor's comments came after contentious meetings with US President Donald Trump at NATO and G7 summit meetings. Trump clashed with America's allies over global warming, mutual defense and trade."
Photo credits: Banksy does Brexit, License: CC BY 2.0; EU photo courtesy of EU Council President's Office, License: CC BY-NC-ND 2.0.
Related article, "America, Not the Best of Times"
Other European News