UPDATE ANNOUNCEMENT – September 15, 2020
For 2020 we have two small satellite sites to help people who would find it difficult to travel to Tucson.
Services will be streamed live from Tucson each day.
NB. California and Tucson are on the same time for the Feast.
Sonora CA
Meeting Rooms on Demand
222 S. Shepherd St.
Sonora CA 95370
Members will make their own accommodation arrangements.
Boise ID
Bill and Betty Eastburn's home.
208 761 2807
---
FEAST ACTIVITIES ANNOUNCEMENT – September 15, 2020
Catered Activities
All payments will need to be made during the Feast by check or in cash. Selecting meal options for individuals is important to avoid confusion on the day and because we have to submit counts three days in advance.
Holy Day Lunches
Plated lunches for the double Sabbath Holy Days will be served at the Sheraton Sabino Ballroom at 12:15 pm for those who pre-order meals.
First Day Lunch – Saturday October 3
Adult plate – $24.00, Child plate – $12.00
Adult Choice 1
Chicken Piccata (gluten free)
Rosemary Potatoes
Toasted Tomatoes
Chef's Choice Dessert
Freshly Brewed House Coffee & China Mist Iced Tea
Adult Choice 2
Lasagna
Sauteed Broccolini
Chef's Choice Dessert
Freshly Brewed House Coffee & China Mist Iced Tea
Kids Menu
Chicken Tenders with Ranch or Ketchup
French Fries
Veggie Sticks
Chocolate Chip Cookie
Milk
Last Day Lunch – Saturday October 10
Adult plate – $24.00, Child plate – $12.00
Adult Choice 1
Salmon with Rosemary Cream (gluten free)
Lemon Herbed Vegetable Rice
Chef's Choice Dessert
Freshly Brewed House Coffee & China Mist Iced Tea
Adult Choice 2
Chicken Fettuccine
Sauteed Broccolini
Chef's Choice Dessert
Freshly Brewed House Coffee & China Mist Iced Tea
Kids Menu
Spaghetti with Meatballs (no pork)
Bread & Butter
Veggie Sticks
Chocolate Chip Cookie
Milk
Ice Cream Social – Wednesday October 7 – in the Gazebo from 7 pm
$6.00 per Person
Chocolate & Vanilla Ice Cream
Assorted Toppings: cookie crumbles, nuts, sprinkles, m&m's, caramel & chocolate sauce
Trail Dust Town Family Activity – Sunday October 4
Adult plate – $28, Child plate – $14, includes Stunt Show
Participants can begin arriving around 3pm where they will find line dancing at the Savoy Opera House as well as other activities to enjoy around the town. Discount tickets for rides (e.g. carousel and train) can be purchased for $2.25 at the cash bar.
The dinner will be served in the Savoy Opera House at 5pm followed at 6pm by the Old West Stunt Show. This will be a private presentation only for our group in which they will not include any Halloween subject matter.
Meal tickets will be distributed at the door.
Adult Choice 1
Savoy Sliced Beef Served with Savoy 1884 grill sauce
Adult Choice 2
Pulled Mesquite Chicken with 1884 grill sauce
Kids
Chicken Strips with Mac n Cheese
All entrees include:
Coleslaw
Roasted Red Potatoes
Dinner Rolls (Large enough for guests to create a sandwich)
Lemonade & Hot Beverage Service
Assorted Cookies
Discounted Amusements Tickets (for carousel and train) available at the cash bar. $2.25. One ticket per ride.
Pinnacle Peak Pistoleros Private Show 6:pm
(No Halloween…However stage is set with spider webs and orange lights)
---
FEAST ACTIVITIES ANNOUNCEMENT – September 11, 2020
Below is the 2020 Feast Activity Schedule that you may download and print for your planning purposes. We are currently finalizing details and costs for meals and activities. We will have these posted soon for signup.
---
FEAST ACTIVITIES ANNOUNCEMENT (Brian Orchard) – September 6, 2020
To assist you with your planning of activities in Tucson, we have a list of recommendations which was compiled by the Tucson Visitors Bureau. The various venues are shown on the interactive map with the indication of distance from the Sheraton Hotel.
Since this should be helpful, we are sending it to you early and it will also be online.
We are planning for a loosely organized family activity at both Trail Dust Town and Tombstone. More details when things are finalized.
We are also planning for a catered lunch on both Holy Days. Two services are schedule on both Holy Days.
A hospitality room will be available for fun and fellowship on several evenings.
COGWA is holding a BBQ and fun show evening we are able to attend if you are interested. The information and sign up forms are at feast.cogwa.org under "Tucson".
Hope this helps.
Brian Orchard
Tucson Map: https://share.threshold360.com/map/2zb645
Trail Dust Town
6541 E Tanque Verde, Tucson, AZ 85715
520 296 4551
https://www.traildusttown.com/things-to-do/attractions/
http://www.traildusttown.com/
(open)
Tombstone
West Allen Street, Tombstone, AZ 85638
https://tombstonebordello.com/local-attractions/
(open for tourists)
Pima Air and Space Museum
6000 E Valencia Rd Tucson, AZ 85756
520-618-4800
Andi Grodzki, Support Specialist
agrodzki@pimaair.org
http://www.pimaair.org
(open for self touring)
Arizona-Sonora Desert Museum
2021 N Kinney Rd., Tucson, AZ 85743
520.883.3018
Anthony Peña, Events & Marketing Specialist
apena@desertmuseum.org
http://www.desertmuseum.org
(open for self touring/reserations)
Rock and Ropes
330 S Toole Ave Suite 400, Tucson, AZ 85701
520-882-5924
http://www.rocksandropes.com
(opening in September)
Wild Katz Indoor Playground
4629 E Speedway Tucson, AZ 85712
520 415 7955
https://wldktz.com/experience
Trail Dust Adventures, Inc., Jeep Tours
1665 S. Craycroft Rd. Tucson, AZ 85711
http://www.traildustadventures.com
520 747 0323
Biosphere 2
32540 S. Biosphere Rd. Oracle, AZ 85623
https://biosphere2.org/
520 621 4800
DeGrazia Gallery in the Sun Museum
6300 N Swan Tucson, Az 85718
http://degrazia.org
520 299 9191
San Xavier Mission del Bac
1950 W. San Xavier Rd. Tucson, AZ 85746
https://www.sanxaviermission.org/
520 294 2624
Mini Time Machine
4455 E Camp Lowell Dr., Tucson, AZ 85712
http://www.theminitimemachine.org
520 881 0606
Arizona Zipline Adventures
35406 S Mt Lemmon Rd Oracle, AZ 85623
http://ziparizona.com
520 308 9350
Reid Park Zoo
3400 E Zoo Court Tucson, AZ 85716
http://www.reidparkzoo.org
520 791 3204
Tucson Botanical Garden
2150 N Alvernon Way Tucson, AZ 85712
http://www.tucsonbotanical.org
520 326 9686
Tohono Chul
7366 N. Paseo del Norte Tucson, AZ 85704
http://www.tohonochulpark.org
520 742 6455
Kartchner Caverns
2980 S HWY 90 Benson, AZ 85602
https://azstateparks.com/kartchner
(open for tourists)
---
UPDATE ANNOUNCEMENT (Brian Orchard) – AUGUST 22, 2020
I want to give you an update on our feast planning meetings on Friday. We are back in Phoenix for the Sabbath after a very successful trip to Tucson.
We were admittedly somewhat apprehensive not knowing exactly what we would find. However we came away feeling that we will be able to have an uplifting, enjoyable and close to normal Feast of Tabernacles. Thank you for your prayers. I believe they are being answered.
The ballroom is beautiful and provides all the amenities we need. (Hard wire internet connection, fast upload speed, connection to the hotel speaker system and plenty of room for social distancing.) The hotel is providing their grand piano for free – a big saving over Oxnard. There is an adjacent small room for special needs uses (parents, medical emergencies, anointing, etc). We will also have the use of a separate smaller ballroom for catered lunches on the Holy Days and for use in the evenings for hospitality gatherings.
The hotel has a spacious courtyard area we can gather in the evenings for planned or unplanned activities. It is adjacent to the large swimming pool. Day time temperatures should not be above 85'F and nights could get down to 60'F. The Sheraton will provide breakfast for us (at a discounted price yet to be set). This they are not doing for guests at the moment but plan to begin in the next few weeks. Because of the size of our group they will also ensure daily housekeeping. Most hotels are not providing that at this time.
In restaurant dining is available at a good selection of restaurants. Some are closed but the expectation is that Tucson will come back to life in September if there is not an uptick in virus cases – which are currently very low. Several days last week there were no new recorded cases and no deaths. So it is looking good from that point of view.
At the moment Arizona requires face masks to enter buildings and businesses. This is the same as we experienced in Texas and is in place in California. Masks must be worn in public spaces on the hotel premises, however the meeting room is leased to us and once in the ballroom the wearing of a face mask is at your discretion. You may wear one or you are free not to. We will consider seating to accommodate personal choice in this regard if necessary. We are looking at allocating reserved seating to apply social distancing. This is not required by the hotel but again it is to accommodate personal choice. If you would like reserved seating please email John Hinds at jdhinds57@hotmail.com In the scheme of things these are small inconveniences and can easily be accommodated.
Those with musical ability willing to contribute to Special Music should contact Bill Hutchison as soon as possible at whutchison@thefatherscall.net. Ruth Myrick is ready to forward practice music for the Children's Choir so if you have participants in your family please email her at remyrick@gmail.com.
We are very excited about the variety as quality of the activities available to us this feast and will distribute some information on that before long to those registered for Tucson. If you have had difficulty registering on line or booking accommodation we are happy to help.
I am greatly encouraged and am looking forward to the opportunity for us as a group to come before God in a place He has placed His name – and rejoice as His people.
FESTIVAL LOCATION
Feast of Tabernacles 2020 will be held in just one site in the US at the Sheraton Tucson Hotel and Suites, 5151 E Grant Rd, Tucson, AZ 85712.
Opening night services will be 7:30 Friday evening, October 2, 2020, in the Catalina Ballroom and continue through Saturday 10, October. There will be two services on the first and last Holy Days, Saturday 3rd and 10th. All services will be live-streamed for those unable to attend.
ABOUT TUCSON
Tucson is a fascinating historic city just over 100 miles south of Phoenix, Arizona. The area is well known for its tourist attractions and eateries. The fall climate and spectacular scenery is part of the appeal of the area for the Feast. Tucson is at 2,400 feet above sea level and surrounded by five distinct mountain ranges. October temperatures are generally between 80 and 95'F during the day with cooler evenings.
There is much to see and do. There are excellent parks and hiking trails and several fine museums – including hands-on museums for children. You won't want to miss the Arizona-Sonoran Desert Museum or the Pima Air and Space Museum. Old Tucson movie studio and theme park is another popular attraction as is the highly acclaimed Tucson Botanical Gardens – with butterfly and orchid pavilions among their varied displays. Also within an hours drive of the Feast site attendees may want to visit historic Picacho Peak State Park; Sabino Canyon; the Biosphere at Oracle or the two Airplane Boneyards for commercial and military planes.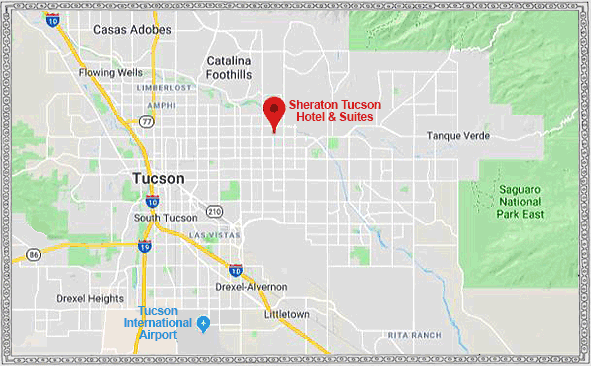 TRAVEL AND HOTEL RESERVATIONS
The Feast site is 14.6 miles north of the Tucson International Airport. The hotel does not provide airport shuttle, but some rides may be able to be arranged for individuals flying in and not wishing to rent vehicles. If you are renting a car for the time you may want to check the Church negotiated discount rates offered by Avis using AWD #Q705377 or Herts CDP #2133454
You may make reservations at any time at the link below for the Sheraton Hotel and Suites. The rate we negotiated of $119 per night plus taxes is for standard queen or king rooms. They are spacious and all have small refrigerators. All rooms have showers with grab bars but no tubs. Larger suites are available for $139 per night. Breakfast is not included but coupons can be purchased for the full breakfast buffet for $10 per head. There is also an I-Hop restaurant next door and other restaurants nearby. Trader Joe's and Costco are also close.
Reservation Information:
Start Date: 10/2/2020
End Date: 10/11/2020
**Rates are open a couple of days before and following
**Last Day to Book: September 4, 2020
Click on the following link or see the website listed below:
Book your group rate for Church of God, The Father's Call
Or cut and paste the web address into your browser: https://www.marriott.com/events/start.mi?id=1568911045049&key=GRP
Enter reservation dates prior to hitting the "Check Availability" button
Alternative Option: For those who need a kitchen or lower cost option there is an Extended Stay America right across the road from the Sheraton Hotel. It is not highly recommended and is not a full-service hotel. You can read details at the link below. We have not negotiated a group rate as we do not anticipate many will need to stay there. The rates are very reasonable ($65-$85 per night) and anyone wishing to make a reservation should have no trouble finding a good deal online. https://www.extendedstayamerica.com/hotels/az/tucson/grant-road
INTERNATIONAL FEAST SITES
Germany:
For information and availability for the Feast site in Germany, please contact Cliff Veal at clifftonveal@me.com.
Philippines:
This year the Feast will also be held in the Philippines.