Feast of Tabernacles 2020 will be held in just one site in the US at the Sheraton Tucson Hotel and Suites, 5151 E Grant Rd, Tucson, AZ 85712.
Opening night services will be 7:30 Friday evening, October 2, 2020, in the Catalina Ballroom and continue through Saturday 10, October. There will be two services on the first and last Holy Days, Saturday 3rd and 10th. All services will be live-streamed for those unable to attend.
ABOUT TUCSON
Tucson is a fascinating historic city just over 100 miles south of Phoenix, Arizona. The area is well known for its tourist attractions and eateries. The fall climate and spectacular scenery is part of the appeal of the area for the Feast. Tucson is at 2,400 feet above sea level and surrounded by five distinct mountain ranges. October temperatures are generally between 80 and 95'F during the day with cooler evenings.
There is much to see and do. There are excellent parks and hiking trails and several fine museums – including hands-on museums for children. You won't want to miss the Arizona-Sonoran Desert Museum or the Pima Air and Space Museum. Old Tucson movie studio and theme park is another popular attraction as is the highly acclaimed Tucson Botanical Gardens – with butterfly and orchid pavilions among their varied displays. Also within an hours drive of the Feast site attendees may want to visit historic Picacho Peak State Park; Sabino Canyon; the Biosphere at Oracle or the two Airplane Boneyards for commercial and military planes.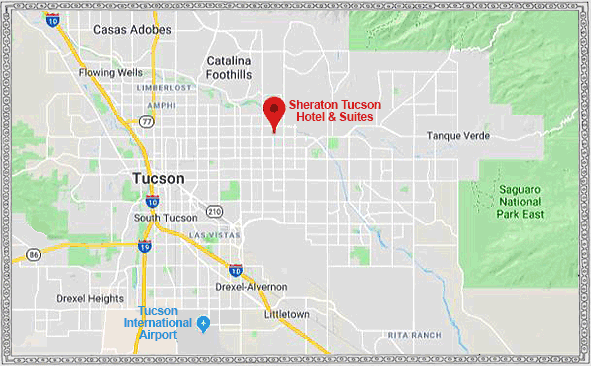 TRAVEL AND HOTEL RESERVATIONS
The Feast site is 14.6 miles north of the Tucson International Airport. The hotel does not provide airport shuttle, but some rides may be able to be arranged for individuals flying in and not wishing to rent vehicles. If you are renting a car for the time you may want to check the Church negotiated discount rates offered by Avis using AWD #Q705377 or Herts CDP #2133454
You may make reservations at any time at the link below for the Sheraton Hotel and Suites. The rate we negotiated of $119 per night plus taxes is for standard queen or king rooms. They are spacious and all have small refrigerators. All rooms have showers with grab bars but no tubs. Larger suites are available for $139 per night. Breakfast is not included but coupons can be purchased for the full breakfast buffet for $10 per head. There is also an I-Hop restaurant next door and other restaurants nearby. Trader Joe's and Costco are also close.
Reservation Information:
Start Date: 10/2/2020
End Date: 10/11/2020
**Rates are open a couple of days before and following
**Last Day to Book: September 4, 2020
Click on the following link or see the website listed below:
Book your group rate for Church of God, The Father's Call
Or cut and paste the web address into your browser: https://www.marriott.com/events/start.mi?id=1568911045049&key=GRP
Enter reservation dates prior to hitting the "Check Availability" button
Alternative Option: For those who need a kitchen or lower cost option there is an Extended Stay America right across the road from the Sheraton Hotel. It is not highly recommended and is not a full-service hotel. You can read details at the link below. We have not negotiated a group rate as we do not anticipate many will need to stay there. The rates are very reasonable ($65-$85 per night) and anyone wishing to make a reservation should have no trouble finding a good deal online. https://www.extendedstayamerica.com/hotels/az/tucson/grant-road
INTERNATIONAL FEAST SITES
Germany:
For information and availability for the Feast site in Germany, please contact Cliff Veal at clifftonveal@me.com.
Philippines:
This year the Feast will also be held in the Philippines.